Objectrad holds itself to the highest standards in our relationships with our clients, among our team members, and within our community. Our success depends on building and maintaining a high level of trust and respect.
Objectrad is Object Radiance, Inc., a California corporation formed in 1995 to provide object- and component-based, distributed computing solutions to Fortune 1000 clients and promising startups. We are located in Temecula, California.

Temecula is located 50 miles north of San Diego, 75 miles southeast of Los Angeles, and 30 miles east of the Orange County coastline.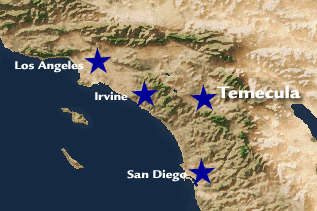 Directions from San Diego
Directions from Orange County
Directions from Los Angeles
Directions from the Ontario Airport
For general corporate matters
For job opportunities - see our jobs page
For business development
For anything to do with this website
Physical address
Object Radiance, Inc.
28581 Front St. Ste 200
Temecula, CA 92590

909-699-8976

5 years on the internet
We have used our domain, objectrad.com and the evolving internet capabilities for the last 5 years to serve our clients.