We know that, just as the internet is changing the way enterprises structure and conduct business, that the very way we do our work is changing as well. Communication and Collaboration are key to a successful software project. The new e-collaboration capabilities enables the sharing of ideas and information in great new ways
We provide a project portal for a client, which becomes a focal point for project collaborative activities. This portal provides real-time information on the project status. It supports the sharing of ideas, and the harvesting of that communication for a knowledge base.
The result of the project is more than just the completed application. Due to the collaborative nature, your technical staff gains experience with the technologies and the delivered software. The discussions and problem reports are mined to extract a knowledge base on the application. The problem report database and source control repository can be taken over as is, or can be migrated into your infrastructure.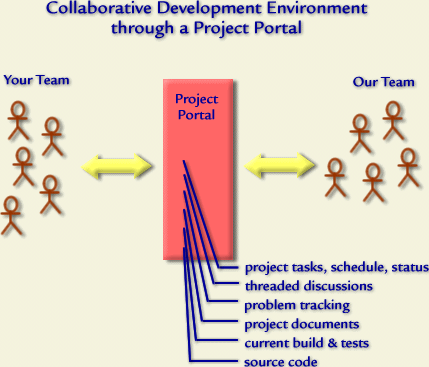 This project portal is an ongoing effort at Objectrad, since the e-collaboration tools are just evolving. Depending on need, we can provide gateways between the portal and your existing development infrastructure.
Some tools or techniques may not be appropriate for a project. A client prefer not to employ any aspect of the project portal. We are flexible in our development approach. We know we can provide a valuable service; but we also know that we can learn from every client and every project.
©Copyright 2000, Object Radiance, Inc.